The leading AAT text
book publisher
Instant access to eBooks
for AAT Titles
Authored by leading
accountancy tutors
Business Maths
Osborne Books
This comprehensive study text provides an essential introduction to economics for students of accountancy, business and related subjects.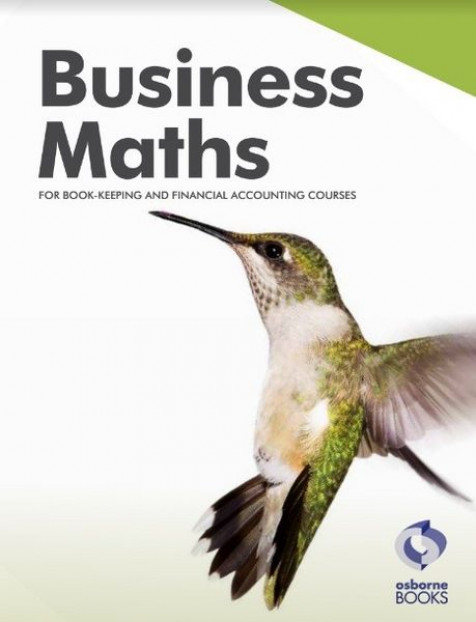 ---
ISBN:9781911198109
In Stock
Includes FREE copy of eBook accessible for 2 years from date of purchase
Fast shipping to UK and overseas
---
ISBN:9781911198109
In Stock
Accessible for 2 years from date of purchase
Paperback copy not included
Overview
Written for students of accountancy, business studies and related subjects from A-level through to degree and professional qualifications, this book provides an essential introduction to business maths that makes a complex subject easy to understand.
Key definitions are highlighted, complex terms are explained with clear worked examples and answers, and more challenging questions are provided to consolidate your understanding.
Mathematical tables and formulae
The Basics
Percentages, ratios and proportions
Accuracy and rounding
Algebra, formulae, equations and graphs
Introduction to financial mathematics
Data collection
Presentation of data
Averages
Variation
Index numbers
Probability: basic rules
Expected value and decisions
Normal distribution
Correlation and regression
Time series
Spreadsheets
Postage and packaging
Our charges for postage and packaging are based on the quantity of books ordered.
For deliveries within the UK, costs are £4.00 for the first item and £2.00 for each item thereafter, to a maximum delivery charge of £12.00 within the UK. The delivery charge for Wise Guides is £1.00 each
For deliveries in Europe, one book costs £15.00 plus £10.00 for every additional book, to a maximum delivery charge of £45.00 within the EU
For customers outside Europe wishing to place an order, please Contact Us for a quote for postage and packaging.
Import Duty
Please note that due to varying interpretations of the post-Brexit EU/UK trading agreement, some EU countries are imposing import duty on the value of the goods received from the UK. It is payable by the end consumer via the delivery company and your delivery may be witheld until paid. This may vary from country to country and be up to a value of 20% of the value of the study material.
Delivery Times
Please allow up to 7 working days for delivery from receipt of your order.
Orders are despatched within 5 working days. Any books that are not in stock (indicated alongside each book) will be sent as soon as they are available.
Your order will be sent either by 1st class Royal Mail or by 24-hour courier (for orders within the UK). For orders being despatched to Europe we usually use a Royal Mail signed for service whenever possible or a courier for larger orders.
If your order is placed online, you will receive an email once your order has been despatched.
Many of our deliveries require a signature on receipt. If possible please quote a delivery address where a signature can be given during working hours.