The leading AAT text
book publisher
Instant access to eBooks
for AAT Titles
Authored by leading
accountancy tutors
Principles of Costing Workbook
Aubrey Penning
This Workbook for the AAT Level 2 Certificate in Accounting complements the Principles of Costing Tutorial. The perfect revision tool.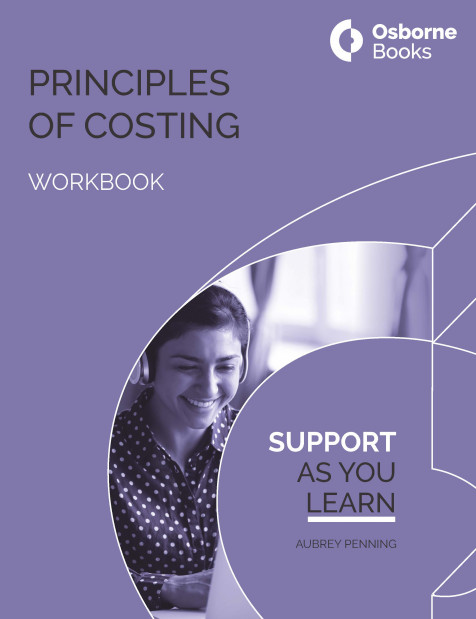 ---
ISBN:978-1-911198-55-0
In Stock
Includes FREE copy of eBook accessible for 2 years from date of purchase
Fast shipping to UK and overseas
---
ISBN:978-1-911198-55-0
In Stock
Accessible for 2 years from date of purchase
Paperback copy not included
Overview
Perfect for revision, it contains practice chapter-based activities, mock exams and answers.
Questions are written by our expert authors in the style of the AAT assessments, helping to consolidate your learning and prepare you for exam success.
The costing system
Cost centres and overhead absorption
Cost behaviour
Investing valuation and the manufacturing account
Labour costs
Using budgets and calculation tools
Postage and packaging
Our charges for postage and packaging are based on the quantity of books ordered.
For deliveries within the UK, costs are £4.00 for the first item and £2.00 for each item thereafter, to a maximum delivery charge of £12.00 within the UK. The delivery charge for Wise Guides is £1.00 each
For deliveries in Europe, one book costs £15.00 plus £10.00 for every additional book, to a maximum delivery charge of £45.00 within the EU
For customers outside Europe wishing to place an order, please Contact Us for a quote for postage and packaging.
Import Duty
Please note that due to varying interpretations of the post-Brexit EU/UK trading agreement, some EU countries are imposing import duty on the value of the goods received from the UK. It is payable by the end consumer via the delivery company and your delivery may be witheld until paid. This may vary from country to country and be up to a value of 20% of the value of the study material.
Delivery Times
Please allow up to 7 working days for delivery from receipt of your order.
Orders are despatched within 5 working days. Any books that are not in stock (indicated alongside each book) will be sent as soon as they are available.
Your order will be sent either by 1st class Royal Mail or by 24-hour courier (for orders within the UK). For orders being despatched to Europe we usually use a Royal Mail signed for service whenever possible or a courier for larger orders.
If your order is placed online, you will receive an email once your order has been despatched.
Many of our deliveries require a signature on receipt. If possible please quote a delivery address where a signature can be given during working hours.